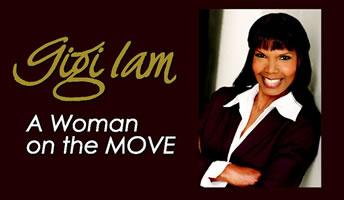 You may have seen Gigi Iam's face in leading magazines, music videos, commercials, film, television and theater. Gigi has amassed an impressive list of accomplishments with a deep desire to give more. Realizing her ability and passion to lead and entertain people, Gigi created the Gigi Iam Brand.

Gigi Iam is a Multi-Media Executive, TV Producer and TV Personality, Radio Personality & Talk Show Host. She's the producer, writer and host of The Gigi Iam Show airing regularly on Time Warner Cable. The Gigi Iam Show currently reaches more than 350,000 households which is equivalent to an audience of one million plus viewers. The Gigi Iam Show is broadcasting throughout Southern California and expanding rapidly, with plans to expand into the New York, Miami, Atlanta and Chicago markets. The Gigi Iam Show has the potential of reaching tens of millions of viewers worldwide via the Internet. The Gigi Iam Show is an empowering, transformational, informative, inspirational and educational entertainment talk show series receiving rave reviews.

The Gigi Iam Show reaches out with a universal message to empower through positive entertainment, television, film, music, dance, poetry, images and more by creating informative entertainment that empowers and inspires viewers, listeners, fans and consumers. It is "Edutainment"TM for today's generation, and generations to come! The Gigi Iam Show is reaching out to humanity for the betterment of people. Gigi is definitely on the move, constantly making upward strides with plans of continual growth. Who is Gigi Iam? Recently we were able to have a "sit down" with Gigi and learned just what keeps her A Woman on the MOVE! With the gift-of-gab, the dynamic, lovely and sensational Gigi Iam is not just articulate, but a prodigy as a speaker. Gigi will surround you with her irresistible charisma, witty character and winning personality. She is a Multi-Media Executive, TV Producer, TV Personality, Radio Personality, Talk Show Host, Model, Dancer, Singer and Actress (Boomerang).

Q. Where did you experience your formative years and how did the experience shape who you are today?

Gigi Iam: I was born in Chicago. I loved me some Chi-Town. I remember growing up singing and making people laugh. I was raised by my grandmother (Big Mama) and grandfather (Grand Daddy). My grandparents structured a very loving and solid foundation for me and I am extremely grateful. Because of their love and influence I developed a strong will to survive and I'm driven to be the best I can be. My Big Mama passed away March 2008; we were very close; my Grand Daddy passed away two years prior.

Q. What experiences affected your decision to enter the entertainment business?

Gigi Iam: While growing up performing for family and friends, I loved to sing and dance and put together live home theater acts with my friends. Outside of performing I was very shy so it was my way of expressing me. I entered an assortment of talent competitions just for the fun of it; little did I know it was part of my preparation. My early involvements in the arts lead me to a natural progression of doing what I enjoy today, working in the entertainment business.

Q. How important to you was education in terms of goal development and accomplishment?

Gigi Iam: It was not something I gave great attention to until my mid-teens. Once I became interested in education I'd set out to learn anything I wanted to know. I trained and developed my skills and technique at Stella Adler Conservatory in New York. Then I wanted to learn Creative Visualization, so I enrolled at Lee Strasberg theatre and Film Institute also located in New York.

Q. Who has most impacted your life and who continues to do so?

Gigi Iam: My Big Mama has most impacted my life and she continues to. Additionally, my daughter has greatly impacted my life and has added to the list my darling two new awesome grandchildren. Yes I am a Sasha Mama, that's what they call me. So, I am building a New Legacy. I have an adorable genius grand son who turns two January 15th, 2009; he celebrates his birthday on the day as Martin Luther King, Jr. I also have a gorgeous genius baby grand daughter who is only twelve weeks and as precious as can be. I'm very fortunate and grateful. From afar people like Oprah have positively impacted my life.

Q. Have you stopped learning?

Gigi Iam: To live is to learn, develop, grow, increase and build abundance. I plan to continue learning.

Q. Is it important to stay abreast of current events?

Gigi Iam: I think it's more so important to stay on top of things in your daily life. I'm into the 'Now' and when I'm focused on the present it keeps me aware. It keeps my mind sharp and quick.

Q. How do you stay abreast of current events?

Gigi Iam: I stay abreast of current events through research, friends, hot topics, news media, instincts, theory and the Internet.

Q. For what reason(s) are you most excited to awake each day?

Gigi Iam: I'm most excited about awaking each day to experience a new journey and be given more opportunities to get it right, whatever 'it' may be.

Q. You have a very diverse resume in terms of "having done it all" in the entertainment business. Was this because you were endeavoring to find your niche?

Gigi Iam: I wouldn't say I was intentionally endeavoring to find my niche in the beginning, however, as I started to realize my purpose and passion my niche began to develop and expand.

Q. Describe the experience of working on the set of the hit movie Boomerang with such high powered African American movie super stars such as Eddie Murphy and Halle Berry?

Gigi Iam: The experience of working with such notables impacted my life in a major way in terms of my focus. You have to understand, Eddie Murphy was a major celebrity at the time. Up to that point, I had no idea how professional he was on the set, he was very polished, was about business and extremely talented. Robin Givens was popular as well and very kind. Martin Lawrence was not well known at the time, but, even then was crazy funny. There were so many celebrities on the set, Chris Rock, Grace Jones, Eartha Kitt. I remember Halle Berry as being sweet and someone on her way up the industry ladder. It was an absolute phenomenal experience. The acting tips I learned from being on the set with these gifted talents are priceless.

Q. Tell us about IAM Entertainment. How do you go about accomplishing its Mission?

Gigi Iam: IAM Entertainment Brand handles the management end of business and brings fresh innovation and creative development of ideas. Simply put tenacity and drive is my formula for accomplishing the mission.

Q. What do you hope to accomplish with The Gigi Iam Show?

Gigi Iam: Ultimately what I would like to accomplish is Our Mission Movement which is "Generational Wealth - Individual, Family, Community and the World". We're reaching out to help serve people through our informative, transformational, inspiring, entertaining programs.

Q. Do you find it "easy" to interview celebrities?

Gigi Iam: I do get a little star struck, I'm like "Wow"! It's momentary and then down to business, got to produce a TV show. I'm a people's person. I'm very interested in how a person made it through a trying difficult time, had a break-through or came from nothing to achieve greatness, so I do my research. It's not always easy; however I find that I'm a natural at it and its fun.

Q. What is the sure fire formula to expand a growing business, and keep it growing?

Gigi Iam: Faith, Family, Friends, Hard Work, Persistence and a very good Support System.

Q. Is it important to surround yourself with positive, exciting and trustworthy people and how do you ascertain who has these qualities?

Gigi Iam: Absolutely! It's very important to surround yourself with positive, exciting and trustworthy people. I find that a person with integrity, who is up front and direct, has no hidden agenda and no red flags are going on when you communicate with them, usually has those qualities. It is a person who brings their share to the table.

Q. If you were gifted with the power to read minds, which celebrity's mind would you most like to read and why?

Gigi Iam: Who said I'm not already gifted? Actually there are a few. Because of the level of amazing accomplishments people like Oprah Winfrey, Bill Gates, President Elect soon to be President Barack Obama, Michelle Obama, Tina Knowles, Mathew Knowles, Beyonce, Will Smith, Halle Berry, Whoopi Goldberg, Whitney Houston, Mariah Carey, Clive Davis, Aaron Spelling and Simon Cowell have made, I would love to have mind reading sessions with all of them.

Q. If you were gifted to read hearts, which celebrity's heart would you most like to read and why?

Gigi Iam: I would like to read Nicolas Cage, Johnny Depp, Denzel Washington and Will Smith's heart, mostly because I find them interesting and very colorful characters. Reading the heart I think would be different than reading the mind in terms of censorship. There is no censorship with the heart. As for which is most important to me between reading the heart or mind. I would say reading the heart.

Q. If you could choose one gift what would it be?

Gigi Iam: The one gift that I would choose would be my own eternal genie.

Q. If you had a dime for every time someone said you are very pretty how rich would you be? Would you rather them say you were talented, if so why?

Gigi Iam: That is so funny to me. Pretty is the same as being rich and talent is as talent does. Is this a trick question? You never tire of neither.

Q. What type of person attracts you physically?

Gigi Iam: What attracts me physically is probably height. Some physical attributes would be simple things like honest eyes, good grooming and amazing kissable lips. Personality attributes would be integrity, good heart, good sense of humor, family oriented, spiritual, provider, protector and leader.

Q. Where do you see your career headed, in the next few years?

Gigi Iam: I have been aiming for national broadcast syndication on one of the major TV networks; I am also very interested in landing a lead role on a hit sitcom comedy show. Working in that capacity while I continue to build and progress as a financially successful TV producer and entrepreneur.

Q. What long term professional goals have you set for yourself?

Gigi Iam: Structuring a television production network and merchandising company worldwide.

Q. What encouragement would you provide young entrepreneurs that would help assure them a successful path with as little obstacles as possible?

Gigi Iam: First let us be reasonable, there will be obstacles and challenges. Understand preparation will prepare you for what is ahead. Do not compromise your belief. Know like you know that no matter what, you have already made it. Live your life, enjoy, keep family and good friends first in your life and remember karma will come back to bite you, so don' t give shade if you don't want shade back. Let your light shine bright and always be willing to help serve other people. Remember, you bring about what you think about and speak about.

Q. How do you think your constituents see you?

Gigi Iam: Good question. Recently, I have asked myself this very question. Here is what some of my peers say about me: I'm a very dedicated professional and a tireless passionate person full of energy. I am a tireless dynamo and Renaissance Woman, whose commitment to communication and quality programming is second to none. I'm thorough and on time. In the entertainment business, being timely sometimes takes a back seat. Not with Gigi, she is professional and ethical. Gigi is talented and take direction well. These were a few statements of what peers say about me. I feel that they are all extremely kind and generous in their description of how they see me. I am also easy going. I simply give my all to what I'm doing and some days I have more to give than other days. I think my peers would say that my strongest attributes would be my passion and zeal, my focus and tenacity and I also hope my talent and skill.

Q. How do you "pay it forward"?

Gigi Iam: I basically see money as energy now and I am able to see more possibilities and be more creative. One way I pay it forward is through community service, activism and individual support of others.

Q. What would you like our readers to know about you?

Gigi Iam: To know God Almighty is a living life force dwelling within each of us and we have the ability to achieve greatness. We are greatness.

Q. What is your favorite word?

Gigi Iam: My favorite word is "Love".

Q. What is your least favorite word, and why?

Gigi Iam: My least favorite word is "can't". For the most part I have taken that word out of my vocabulary. Why? Because, Yes We Can!

You are invited to Join Gigi's Community





Donate Ad Sales Sponsorship Affiliate Program




© Copyright 1999-2011 GGTV - The Gigi Iam Show - GIGI IAM
GMI Productions and all its entities
All Rights Reserved.
Copying or duplicating from this site without permission is not permitted and illegal.